sheknows.com
- 12:00, 4th July, 2012
Drink like the Black Eyed Peas
I've gotta feeling that tonight's gonna be a good, good night, especially if these cocktail recipes are involved. Everyone's favorite Black Eyed Peas singer, Fergie, has teamed up with Voli Vodka and we're pretty sure that is her best relationship move since snagging Josh Duhamel. Lucky for us, we actually get a taste of this match made in heaven.
Fergalicious cocktail recipe
This cocktail is t-t-tasty and might make you crazy. Get ready to have the boys lining the block. It's not just delicious, it's Fergalicious.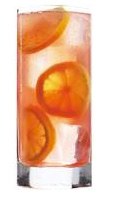 Serves 1
Ingredients:
1-1/2 ounces Voli Lemon
2 ounces cranberry Juice
1 ounce lemon Juice
1 ounce Champagne
Sugar for rim
Garnish with lemon
Directions:
Rim glass in sugar and fill with ice. Add ingredients and stir to combine.
Garnish with a lemon wheel.
Ultra Liquors stocks a wide selection of vodka's which will do the same trick…
read more on sheknows.com